Healthy Boundaries for Nourishing Relationships webinar
December 6, 2022
@
5:00 pm
–
6:30 pm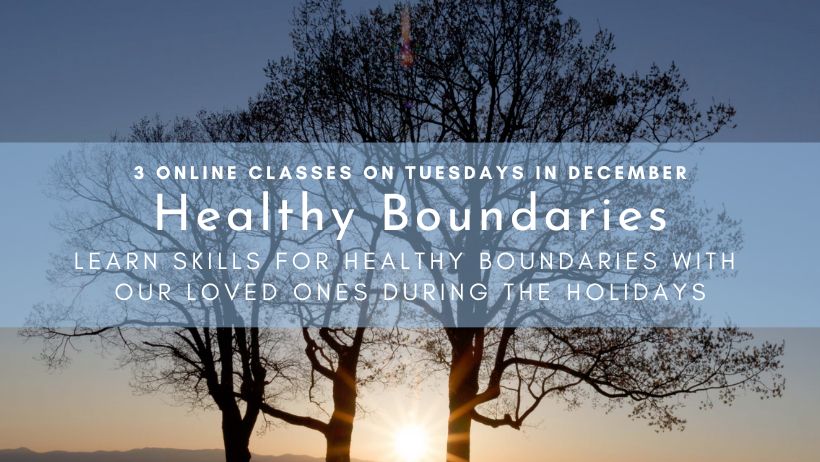 Here comes the Christmas season with all it's joy and angst! There is the promise of connection and the spirit of giving. There is also the anxiety and irritation around navigating family and friend dynamics. if you are a little daunted by this prospect, one skill that is invaluable here is the ability to maintain healthy boundaries. Yet this is such a loaded term and what do we mean by it anyway? Boundary setting is multi-faceted, working on the emotional, psychological, and energetic levels. While we can sometimes misuse boundaries as a way of protecting our ego,
establishing and honoring respectful boundaries is a vital relational skill.
Join Prema Sheerin for this 3 part experiential webinar in which we will:
Establish what healthy boundaries are and how to distinguish them from the ego
protecting its identity or agenda.
Discover how anger (aka frustration or irritation) is the vital emotion that both warns
us of harm, abuse or manipulation and gives us the courage and impetus to say 'No'.
Learn specific skills to establish boundaries with respect, compassion and firmness that
are proportional to the situation.
Explore your own 'energy body' or field of energy that surrounds you and discover how
porous or well protected you are.
Practice nourishing and resourcing your personal space in order to create greater
resilience.
Learn how to establish a semi-permeable energetic membrane that allows in
benevolent influences but repels unwholesome ones.
Have a grounded experience of what it feels like to inhabit a well boundaried organism.
These 90-minute classes will be offered via the zoom platform on 3 consecutive Tuesdays in
December. Classes will be recorded and so, if you are not able to make a class in person, you'll
be able to participate in your own time.
Dates: Dec 6th, 13th and 20th.
Time: 5pm US eastern time
Tuition: $75 (payment plans and partial scholarships available)
Contact Prema to register for this event