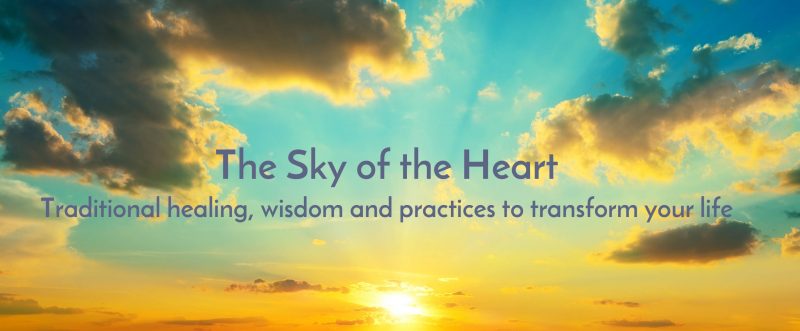 Sky of the Heart Spring Healing Program
Traditional healing, wisdom and practices to transform your life
May 2017
In these times of great need and change the imbalance of modern culture can feel overwhelming. With so much at stake how can our social and political structures be so divisive and self-serving? How can we each find a way to lead on a path towards balance?
What can I do to make a stand for the sacredness of life? How can I acknowledge my feelings of fear, grief and anger that arise from the devastation and desolation of modern life. Is there a way to be joyfully human in the face of what is happening all around us?
Indigenous wisdom traditions swim in a rich sea of connection and relationship with the natural world of Divine expression. It is this relationship that provides for a life of balance and fulfillment. Traditional healing restores balance and transforms ingrained patterns of energy, perspective and behavior that keep us stuck in the illusion of separation from the living world around us.
The Sky of the Heart month-long program allows you to maintain your daily routines (work, family etc.) whilst receiving regular, direct support to integrate change and the emergence of the authentic Self. This is the Self that is Awareness itself, connected to the common Heart and in constant exchange with the Divine forces within and around us. Allow yourself to flow with the natural energy of winter this January, to turn within and explore your essential nature.
In this month-long program you will receive:
Four weekly shamanic healing sessions
Four half-day or one-day workshops providing perspective and tools for daily practice
Four weekly teaching fires for group reflection, support and the integration of learning into our daily lives.
May holds the vitality and promise of spring, allowing us to tap into the energy of renewal, inspiration and creativity in our life.  Nature invites us to look to her abundance and joyous embrace of life.  The increased light and energy of growth provides the perfect opportunity to turn to the knowing and guidance of our heart and to explore who we really are and what is the source of our life.
Where and When:
The Sky of the Heart Spring Program will run from Sun May 30th through Wed May 24th at our retreat center near Weaverville. (20 minutes north of downtown Asheville) We are located on 40 acres of exquisite field and forest along the Ivy River.
Most of our exploration will be done in the tipi or the Council House around the sacred fire. We will also be walking on the land and visiting the river to connect with the beauty and spirit of the earth, water and sky.
The Schedule:
Every week personal healing sessions will be scheduled by appointment. We will also gather as a group each Wednesday evening for a fire where we will explore how the work is being integrated into your life and where you can engage and ask questions.
The workshop schedule is as follows:
Sun April 3oth, 2.00 PM to 9.00 PM
Program opening
Listening to the Dream of Nature:  Deep Listening and connection through fire, the natural sounds of the world around us, our own voice and the presence of others.
The Heart Awareness Journey: A guided journey to experience the presence and guidance of heart.

Saturday May 6th, 10.00 till 6.00 & Sunday 7th, 9.30 till 1.30
Emotional Wisdom: Get unstuck, flow with change and experience your emotions as a source of wisdom and effective action

Saturday May 13th, 2.00 PM to 9.00 PM
Food is Medicine
The Heart Awareness Journey

Saturday May 20thth, 2.00 PM to 6.00 PM
Listening to the Dream of Nature
Stay if you would like for the Sacred Fire Community's monthly community fire with potluck at 7.00 pm and fire to follow
Wed May 24th, 6.00 to 10.00 pm:  Program Finale 
Tuition:
Space is limited so early registration is recommended
Early Bird tuition is $595 with registration before April 1st.
Full tuition is $675 with a registration deadline of April 25th
Your Commitment:
Aside from the financial commitment your investment includes a willingness to give yourself the luxury of slowing down the pace of your life so that you can really engage with the different elements of the program. One of the values of a concentrated immersion in this work is that there is an increased opportunity to interrupt the incredible momentum and pressure of our lives, to reflect and renew, with guidance and support. This is a gift you can give to yourself which will also bring benefits and blessings into the lives of those around you.
For more information call 828 645 1003 or click here